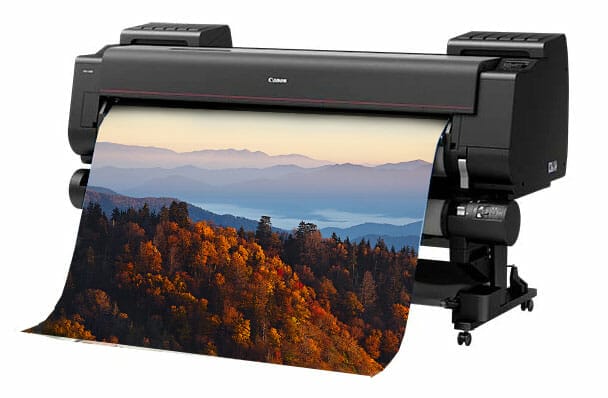 For almost 40 years The Frame House & Gallery has been operating as a local, independently owned business in Inman, SC, framing artwork, photos, needlepoint and cross stitching, diplomas, shadow boxes and more for their customers. In April of 2022 they began accepting digital photo files for printing and framing, expanded their offerings to include printing on canvas.
While initially it made sense for them to outsource these jobs to a 3rd party, as time went on these prints grew in popularity and owner Roger Newman began wondering about the costs—and possible headaches—involved in owning and operating his own wide format printer for canvas.
From Out Sourcing to In-house
Says Newman, "I reached out to ABE after a quick google search where ABE came out at the top."
ABE Sale Manager Baxter Culler notes that once Newman explained the intended use for the machine, he reached out to Canon's wide format expert Lisa Sils to confirm the right system for the Frame House. Sils recommended the Canon iPF Pro4100, and ABE/Canon laid out the implementation and training schedule for the customer. This partner approach gave The Frame House the peace of mind to make the commitment and purchase the new printer.
Pre-installation Training Guarantees a Good Fit
Prior to taking delivery, Sils coordinated a pre-installation training session with the customer and Canon engineer Shawn Anderson. Anderson presented the powerful software capabilities included with the system that would simplify production. Within a few minutes, Newman knew they had made the right choice. After equipment was installed ABE/Canon provided follow up training to be sure everything was working properly and answer any new questions.
Observes Sils, "Many people feel intimidated at the thought of being responsible for the running and maintenance of a professional grade wide format printer. They worry about cost, maintenance and most of all the learning curve on how to use it. Our goal is to speak plainly with a prospective customer about their fears and answer all questions, confronting possible scenarios in their line of work so that they know what to expect, how to operate the device, and how to trouble shoot."
Progress Report
Now, eight month after equipment installation Newman reports, "We use this printer often—it literally pays for itself, not to mention it feels like we've been using it for years. Plus, our customers are thrilled with the results!"
ABE enjoys a longtime, outstanding partnership with Canon. With service techs trained on Canon wide formats, customer have the peace of mind knowing that they will be supported before, during and after the sale. Culler points out, "We partner with Canon because they provide great technology and back it up with exceptional support for the best possible customer experience".
Could Your Business Benefit from New Office Technology?
Book a free consultation to discover the right tools to grow your business.