Putting knowledge and expertise to work for you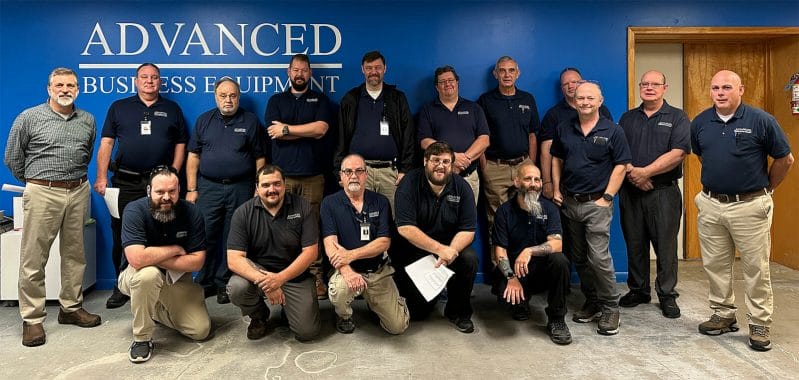 Multifunction printers (MFPs) are essential tools for businesses of all sizes. They can be used to print, copy, scan, and fax documents, and they can save businesses a significant amount of time and money. However, as with any complex machine, MFPs require regular maintenance and repair to keep them running smoothly. This is where a team of expert copier technicians come in.
Experienced service technicians have the knowledge and expertise to quickly and efficiently diagnose and repair MFPs. They are familiar with the latest MFP models and technologies, and they have the tools and parts necessary to get the job done right. In addition, experienced service technicians can provide valuable advice on how to extend the life of your MFP and avoid costly repairs in the future.
In-house Certified Trainer
ABE's Operations & Service Manager Mike Cordiale is also our in-house certified trainer. Mike has accumulated to date 24 years of training on Konica Minolta devices, and 17 years of Canon training. That's a lot of knowledge and expertise—and he is never "done" because technology never stops evolving.
With the largest team of copier service technicians in Western North Carolina and servicing WNC and the Upstate, keeping up with training for the entire team is an ongoing project. Every year Mike undergoes anywhere from 45-55 training sessions on the devices we carry, and in turn he trains our service techs, in exactly the same way as Konica Minolta and Canon would train them. The end result is that our technicians are trained on every device we carry from Konica Minolta and Canon. 
Longevity Matters
"However," says Mike, "service excellence is not just about the training—longevity also plays a key role. Our service team is made up of 12 individuals who have an average of 21.83 years of experience each.  And when you combine years of experience with recent certifications for updated training programs, you know that not only will your device be repaired with speed, but it will be fixed the right way."
"The same is true for our IT team (3 team members with an average time in the field of 15.7 years) and our inventory and set-up team (3 persons with 5+ years of experience each)," continues Mike, "and every team member is ready to put their expertise to work for you."
Experienced service technicians deliver the following benefits:
Faster repair times: Experienced service technicians are familiar with the latest MFP models and technologies, so they can quickly and efficiently diagnose and repair problems, saving you time and money as you won't have to wait for a technician to learn how to fix your specific MFP.
Less downtime: When your MFP is down, it can disrupt your business operations. Experienced service technicians can often fix problems on the same day, so you can get your MFP back up and running quickly.
Peace of mind: Knowing that your MFP is in the hands of an experienced technician gives you the confidence that your MFP will be repaired correctly and quickly, so you can focus on running your business.
ABE's Service Department has been recognized by Konica Minolta with the 2023 Pro-Tech Service Award, the highest service award they offer. Awarded to only about 4% of KM dealers, it's acknowledgement for achieving exemplary customer support and satisfaction.
If your organization depends on an MFP to accomplish your mission, it's important to partner with a company that offers experienced service technicians, ensuring that your MFP is always in good working order without having to worry about costly repairs or downtime.