You'd be hard-pressed to find a nonprofit that works harder and impacts a wider range of environmental factors than MountainTrue. Their mission encompasses championing resilient forests, clean waters and healthy communities across 26 counties in the Southern Blue Ridge Mountains of Western North Carolina and North Georgia. 
Formed in 2015 when 3 Western North Carolina-based nonprofits merged and joined forces, MountainTrue has since grown to include 10 Clean Waters programs, 3 Resilient Forests programs, 4 programs geared toward Healthy Communities, a Green Energy program, and the faith-based Creation Care Alliance of WNC.
That's a lot of environmental advocacy! For our nonprofit spotlight on MountainTrue, we're going to hyper-narrow our focus to their Swim Guide Bacteria Monitoring program, which runs yearly from Memorial Day through Labor Day weekends. 
Why is the Swim Guide Bacteria Monitoring Program Important?
When it comes to monitoring our waterways, there's no shortage of dangers to be on the lookout for: bacteria from animal agriculture, sewage and failing septic systems are all present in varying degrees. In an area like WNC, where residents and tourists alike enjoy all the outdoors has to offer, it becomes even more critical to monitor the environmental safety levels of our recreational waters.
"Our mountain region is blessed with an abundance of wonderful rivers, lakes and streams for everyone to enjoy," explains MountainTrue Communications Director Karim Olaechea. "We think it's crucial for the public to know if their favorite swimming and paddling areas are safe and if it's not then why and what they can do to make our waters cleaner."
What Does MountainTrue Do with the Water Analyses?
Through MountainTrue's program, local volunteers take weekly water samples from the Broad, French Broad River, Green, Watauga and Hiwassee rivers and their surrounding tributaries. The results are analyzed for fecal coliform levels and the results are posted in the Swim Guide — a website and smartphone app with water quality information for beaches and local waterways all over the world. Swim Guide is a resource that helps users identify which waterways are safe for swimming and recreation.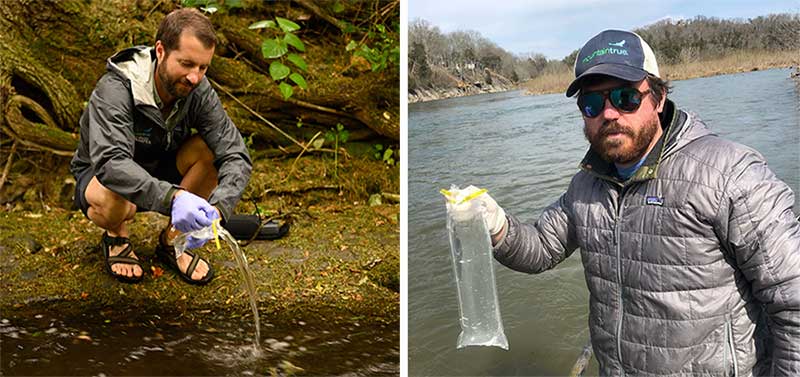 French Broad Riverkeeper Hartwell Carson taking a water sample from Nasty Branch, a tributary to the French Broad River; Watauga Riverkeeper Andy Hill takes a water sample from Watauga Lake in the High Country
The French Broad Watershed in North Carolina covers more than 2,800 square miles. In 2008, more than 15% of the streams in the watershed were impaired for bacterial pollution.
MountainTrue also uses that water quality data to identify and report sources of pollution to local authorities and state regulators. In 2021, the organization employed eDNA or environmental DNA testing of the French Broad River, one of our region's most impaired waterways, to determine the most likely sources of water pollution. Their findings? Most E. coli bacteria enter our waterways from agricultural runoff with failing sewer and stormwater infrastructure as a secondary but still significant source. MountainTrue is using that data to push for science-driven policies in Raleigh to help farmers improve their farms and keep animals and stormwater runoff out of area streams.
"These rivers, lakes and streams belong to all of us. They are crucial public resources that are a source of drinking water for many of our communities. They are wonderful places for us to splash, paddle and play with friends and families. And they are an important economic driver for our region, attracting visitors from around the world," says Karim. "These waters must be protected for the benefit of our communities and future generations."
How Can You Help?
MountainTrue's Bacteria Monitoring and Swim Guide program are powered by a wide network of volunteers and people like you. They'd love to hear from you if you want information about how you can make an impact!
We are proud to support our client MountainTrue in their efforts towards keeping rivers, lakes and streams clear.