The gold standard for service competency and proficiency
Konica Minolta has awarded Advanced Business Equipment with their esteemed Pro-Tech service award for the 23rd straight year. To attain the Pro-Tech standard, Konica Minolta evaluated and measured each element of ABE's operation, including its management skills, inventory control systems, technical expertise, dispatch systems and customer satisfaction ratings. Konica Minolta recognized ABE for outstanding service of KM imaging products, including copier/MFPs, printers and software solutions.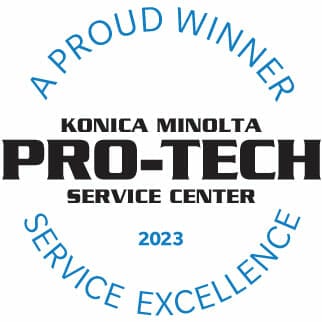 In order to assure the highest performance standards across their organization, Konica Minolta finds it important to recognize those dealerships that are focused on delivering excellent service and describes the Pro-Tech Service Award as a "representation of Konica Minolta's gold standard for service competency and proficiency."
ABE became an Authorized Konica Minolta Training Facility in 1999 and won their first Pro-Tech Service Award that same year. "We continue to be proud of our strong partnership with Konica Minolta. The Pro-Tech Service Award is emblematic of our dedication, and it's rewarding to earn this distinction year after year," says ABE President and CEO Kevin Jackson. "Our commitment to our customers is to provide best in class service and support, and the Pro-Tech Award is a recognition of our continued success in delivering on that promise." 
Konica Minolta is committed to customer excellence and was named number one in customer loyalty in the 2022 Brand Keys Customer Loyalty Engagement Index within the "MFP Copier" category for the 15th year in a row. The company in turn encourages its dealers to strive at delivering the highest level of commitment to customer support and satisfaction.
Based in Asheville, NC, ABE is a second-generation local company, family-owned and operated for over 40 years. Along with MFP copiers, ABE offers wide format printers from Canon and KIP, business quality shredders and cutters, VoIP phone solutions, digital smartboards, and IT services. ABE is well known for its consistently high standards of customer support, community service, and expertise in all their product lines.